Udemy Scratch Language Requirements
Programming languages for desktop and web applications have garnered the reputation of being tough and quite difficult to learn –especially for diverse age groups. Most people out there make use of advanced programming languages like Java, C, C++, and others only after undergoing intensive studies and constant practical application. However, Scratch programming language proves that it is immensely simpler to learn –especially for coders of all age groups. This is wherein a detailed Udemy Scratch programing course comes in to help you know about the programming fundamentals and coding for beginners and intermediates.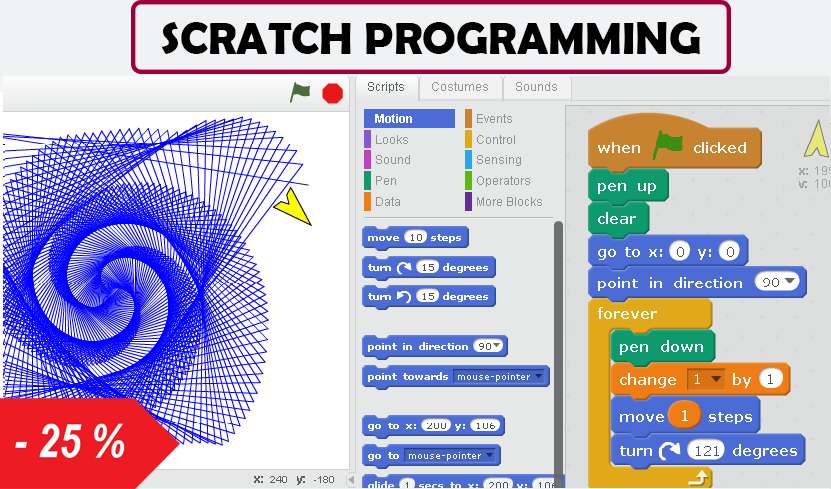 Anyone looking forward to learning programming with the help of simplified conditions can get relevant solutions with the help of this easy-to-use, open-source programming language. Scratch is a popular, open-source project that had been developed by a research team of Lifelong Kindergarten Group at the prestigious MIT Media Laboratory, Cambridge. The latest version of the given programming language, Scratch 3.0, is JavaScript & HTML-based. The best part of the latest version is that it offers support for the advanced touch control in Chrome and Safari web browsers.
Scratch Language Tutorial Requirements
The main purpose of the Scratch programming language is to ensure that the basic principles of programming tend to be more tangible as well as comprehensive for the newcomers. It is highly adaptable for children and young adults. Scratch is all about ensuring playful learning –the topmost priority when it comes to making children learn coding.
If you wish to learn Scratch from its core, you can go through detailed Scratch game tutorials at Udemy. Udemy Scratch Programming courses offer you in-depth insights into all it takes to know about this programming language in detail.
While the Scratch programming project might offer entry obstacles that tend to be significantly less difficult in comparison to other classic programming languages, it would still require proper time to familiarize with the basic concepts of the language.
If you wish to start working on a Scratch project, it is usually not required to set up a separate account. You can start over with the learning phase by only accessing the Scratch platform. You can launch the browser that you prefer. Then, you can start with the project by only clicking the button "Start Creating." If you wish to join the larger Scratch community, you can even consider sharing videos, games, and so more. However, for this, you will require a proper user account, and register for the same. All of which is made very easy by the MIT Scratch team.
If you wish to create your user account, you can click on the option "Join Scratch." Enter the desired username along with a secure password.
Once you click the option "Next," you will be asked to enter some specific information like the birthdate, country of origin, and others. As you enter the last stage of concluding your registration with Scratch, you will be required to verify your email address. Then, you can click on the option "Set Up Your Account."
With this series of steps, you can be easily registered on Scratch.
An Insight into Scratch Offline Editor
Scratch Desktop –also going by the name as the Scratch 3.0 Offline Editor, is another version of Scratch 3.0 that can be easily downloaded as well as installed on your computer system. This is in contract to the online editor version of the programming language that runs only on the web browser.
The offline editor version of the Scratch programming language serves useful for those who wish to make use of the platform without any Internet connection. At the same time, it is also practical for classroom teachers who do not wish the students of the class to participate in the online community.
The users of Scratch can also consider making use of the Scratch Offline Editor for the creation of a new version of the respective game without making other users notice the same.
System Requirements for Scratch 3.0
If you wish to ensure that your Scratch is running properly, it is advised that you should aim at fulfilling the minimum system requirements as:
Windows 10 or later versions, macOS 10.13 or later versions, or Chromebooks or Android tablet version 6.0 or later versions. However, users have reported that the offline editor of the programming language works great on Windows 7.
Around 400 MB of free space in the hard drive of the system
Download & Installation
You can consider downloading Scratch Desktop from the official website of Scratch. Here, you will be provided with an installer –requiring no additional interaction.
Scratch Desktop turns out to be slightly different from the online version of the language. With Scratch basics programming course online by Udemy, you can get to know about the important requirements of learning this language (Get 25% off now with this link). Learn the basic concepts of programming by knowing about the practical approach. The course helps in demonstrating and explaining how to write a great range of programs using Scratch programming language in an easy step-by-step manner.